DAGStat Conference 2019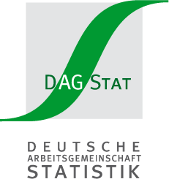 Welcome to the DAGStat Conference 2019! The fifth conference of the Deutsche Arbeitsgemeinschaft Statistik will take place in the heart of the Bavarian capital, Munich, from March 18 - 22, 2019.
According to the motto "Statistics under one umbrella" the conference is organized as a joint meeting of the "Deutsche Arbeitsgemeinschaft Statistik". The meeting includes the 65th "Biometrisches Kolloquium" and the Spring Meeting of the "Deutsche Statistische Gesellschaft".
The links below will provide you with all relevant information on the conference.
Conference quick links
---